About Us
Cal Coast Sports Ventures, LLC was created to provide and promote annual tournaments, leagues and platforms for sports in the Central Coast region of California.
Cal Coast Lacrosse is a Santa Barbara based lacrosse company.
Located along the Pacific Ocean, halfway between Los Angeles and San Francisco, Santa Barbara is a premiere destination in the Central Coast of California and plans to become the premiere destination for Lacrosse in the West Coast, hosting our annual tournament for teams throughout California and the rest of the country.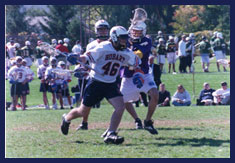 CONOR QUINN is a Co-Founder of Cal Coast Lacrosse, offering a lifetime of experience as both a player and coach.  As a 4-year Varsity starter for The Peddie School, his team ranked 4th in the Nation, winning several state championships.  As team Captain, Conor was voted MVP, 1st Team All-State, and was inducted into the Peddie School Sports Hall of Fame.  Conor is originally from Ridgewood, New Jersey and played Division 1 college lacrosse at Hobart College and the University of Denver.
Conor's professional career has focused on Marketing and Sales, from a Start-up Internet Company, Independent Film Company, a London-based Record Label and the Financial industry, specifically focused on developing new marketing strategies, utilizing new media and creating original content to effectively and strategically position the brand and image of each company.
Conor is a Director and Board Member of the Santa Barbara Lacrosse Association.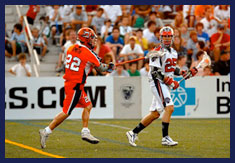 HANLEY HOLCOMB is a Co-Founder of Cal Coast Lacrosse.  Originally from Ridgewood, New Jersey, Hanley was an All-American at the Salisbury School in Connecticut.  Hanley went on to play Division 1 college lacrosse at the University of Virginia, where they won the 1999 National Championship and he was named an All-American in 2000.
Hanley's professional career has focused on the financial industry, where he has been a broker, trader and private wealth manager in New York City.  In addition to finance, Hanley provides color commentary for High School Lacrosse on the "MSG Network."
Hanley played his professional lacrosse career for the New Jersey Pride and the Boston Cannons.
Paul Ramsey
Paul enters his fourth season as the head women's lacrosse coach of the Gauchos. He returned to UCSB for the 2007-08 academic year after ten seasons away from the UCSB program.
Overall it makes it his seventh year as a head coach at UCSB. Ramsey coached UCSB 1990 – 92 then Westmont College, College of the Holy Cross in Massachusetts, Hofstra University on Long Island, Pepperdine University in Malibu and then returned to coach again at UCSB. Under Ramsey, the 2008 & 2009 UCSB teams won WWLL championships and the 2010 team were runners-up.
The Gauchos have advanced to at least the WDIA National Championship quarerfinals three years in a row. Ramsey was rewarded by his team's efforts in 2008 and was selected WWLL Coach of the Year.
Rick Lehman
Rick grew up in Rye, New York just north of NYC with lacrosse all around. He picked up his first stick in 1980, played through middle school and high school as a center midfielder achieving all section honors and was recruited for college but chose to pursue medicine instead.
He moved from Charlottesville Virginia, the home of the University of Virginia and National Champion level lacrosse. He has coached youth lacrosse having three sons and a daughter and has seven years of youth soccer coaching experience, including AYSO U10 & U12 level coaching certification.
His professional occupation is currently a Pediatric Critical Care Medicine Physician, a Clinical Professor of Pediatrics at University of Southern California and Adjunct Professor at University of California, Santa Barbara.  He currently is on staff at eight hospitals and actively works at multiple pediatric intensive care units around the western USA but calls Santa Barbara Cottage Hospital home.
Rick is the first President of the Santa Barbara Lacrosse Association (SBLA), Program Administrator and the Webmaster.  Rick is also the Head coach and coordinator of the SB ELITE (summer All Star Travel Team).
Mike Allan
UCSB Men's Lacrosse Head Coach for the 2011-12 season.
Mike returns to UCSB after spending three years as an assistant coach at Towson University. Mike had previously coached the Gauchos from 2004 to 2008. Under Mike the team won two MCLA National Championships, three WCLL Championships.
Coach Allan is a native of Baltimore, MD where he attended the Gilman School. Mike played at Princeton University where he was a member of three NCAA National Championship teams.
Mike's wife, Katie, is a graduate of UCSB and former member of the Gaucho women's lacrosse team.
For more information, please Contact Us.